003072-30 : Frenzel Lunettes à led, manche à batteries et verres fixes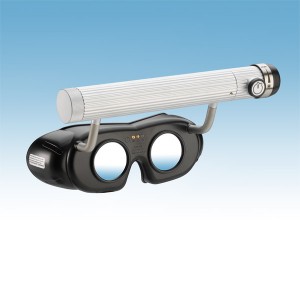 003072-30 : Frenzel Lunettes à led, manche à batteries et verres fixes
---
003062-30 : Frenzel Led-nystagmus spectacles, with battery hold and fixe glasses
---
LED NYSTAGMUS-SPECTACLES BATTERY VERSION
Modern vestibular diagnostics require a high degree of precision when looking for spontaneous or provoked nystagmus. In many cases, the only way of making a correct diagnosis was to perform a technically complex electronystagmography (ENG). These new Nystagmus goggles represent a user-friendly alternative. With our new LED Nystagmus spectacles we offer an improved version of our tried and tested Frenzel and Blessing nystagmus spectacles. The Type 803 model is used on a mobile basis for short-term examinations. The actual examination using these goggles takes place in a dark or a heavily dimmed room. The illumination of the inside of the goggles causes the patient to lose visual contact with his/her surroundings(preventing nystagmus-inhibiting visual fixation). These new LED Nystagmus spectacles are illuminated by diodes arranged in a circle behind a light panel that generate a diffuse, brightness-adjustable light, without the possibility of fixable points of light affecting the result of the examination. With our new LED battery Nystagmus spectacles, the timer feature makes it easier to monitor impulses within a specific time period (30, 60, or 90 seconds).
 In the battery version of the LED Nystagmus spectacles, the lighting turns itself off one minute after the timer has elapsed and turns itself on automatically when the LED Nystagmus spectacles are put on again. This power-saving feature in addition to a "Low Battery" display are intended to guarantee the constant usability of the LED Nystagmus spectacles. The automatic on/off switch can be disabled if not required.
LED – NYSTAGMUS-SPECTACLES TYPE 803

Type 803 LED Nystagmus spectacles can be used to perform short-term examinations on patients. This model is cordless and does not require an electrical connection. The nystagmus goggles are powered by an adjustable battery grip that is installed facing upwards and is designed to accommodate three 1.5 volt C LR14/AM-2 batteries (baby cells). (Batteries not included!).
DETAILED VIEW OF CONTROL HEAD
The LED nystagmus spectacles can be turned on and off and the brightness adjusted using the switch.
DETAILED VIEW OF TIMER DISPLAY
Flashing of the LED indicates that a certain period of time has elapsed.