41550-10 : Work Chair with braked safety castors and back rest, with heightadjustment seat, seat height 54-73 cm, with footring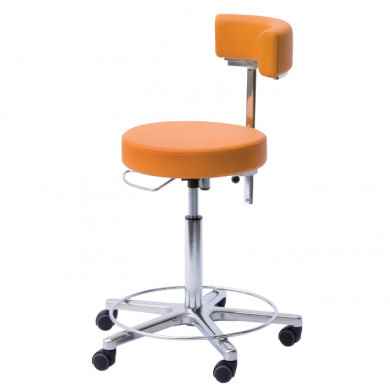 41550-10 : Work Chair with braked safety castors and back rest, with heightadjustment seat, seat height 54-73 cm, with footring
---
41550-10 : Work Chair with braked safety castors and back rest, with heightadjustment seat, seat height 54-73 cm, with footring
---
When ordering, please provide the reference material (airport, ethnic, compact, comfort or surcharge eco) and the upholstery color!
The work chair is height-adjustable by hand release and is equipped with a highly polished aluminum cross foot, a chromed column and safety rollers.
The backrest is adjustable in height and can be rotated by 180°.
Measures
Ø seat 40 cm

seat hight 47-59 cm

overall width 76 cm

upholstery thickness 75 mm

diameter of castors 50 mm

max. user weigh 130 kg