003062-30 : Frenzel Nystagmus spectacle with battery hold and fixe glasses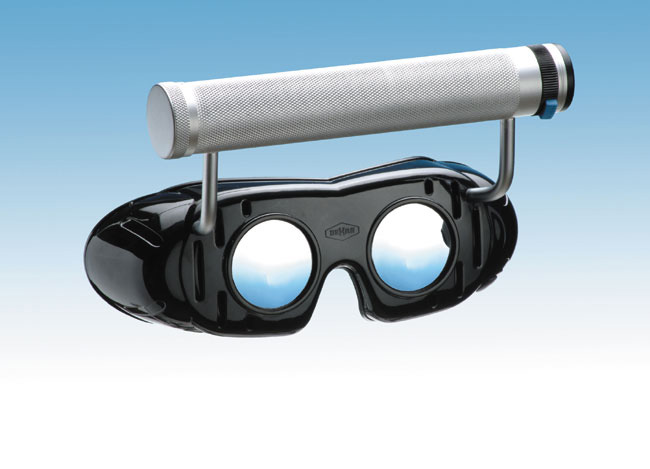 003062-30 : Frenzel Nystagmus spectacle with battery hold and fixe glasses
---
003062-30 : Frenzel Nystagmus spectacle with battery hold and fixe glasses
---
Modern vestibular diagnostics require a high degree of precision when looking for spontaneous or provoked nystagmus.
In many cases, the only way of making a correct diagnosis was to perform a technically complex electronystagmography (ENG).
The new nystagmus glasses by Prof.Frenzel represent a user-friendly alternative.
The actual examination using these goggles takes place in a dark or a heavily dimmed room.
The illumination of the inside of the goggles causes the patient to lose visual contact with his/her surroundings (preventing nystagmus-inhibiting visual fixation).
At the same time, it is especially easy to observe the patient's brightly illuminated eyes using magnifying lenses.
This means it is often possible to detect immediately, just by looking at the patient, pathological nystagmus processes that would be impossible or difficult to detect, even when looking sideways.
With the nystagmus spectacle type 503 you can easily carry out short-term examinations at the patient.
This model allows wireless working and is not bound to power supply.
The nystagmus spectacle is provided with power through the adujstable battery grip avove the spectable and require three 1.5 Volt batteries, size C LR14/AM-2 (baby cells). (Batteries are not subject of the offer).